Watch Tottenham vs Manchester United live on Sky Sports Premier League from 8pm on Friday; Kick-off 8.15pm
"Coming from where he's come from, to make the difference, it will mean more for him than any goal he's scored so far, because it changes people's lives."
Marcus Rashford's work to raise money and change government policy to improve the lives of children around the country has been an inspirational story during lockdown – and Manchester United boss Ole Gunnar Solskjaer speaks proudly about what his striker has achieved.
"He's a fine young man. We're extremely proud, I'm sure his family is extremely proud," Solskjaer tells Sky Sports, during an exclusive interview ahead of United's return to Premier League action against Tottenham on Friday night.
"He's shown human skills, leadership skills and qualities. He was captain for us in the Carabao Cup semi-final against Man City and we want to help him become the grown-up and the man he's got the potential to be."
Rashford is only 22 but he's maturing into a role model in wider society. His development as a footballer is moving at a fast pace too.
Under the management of former United frontman Solskjaer, the England international has had his best scoring season of his career. After a long lay-off with a back injury, which threatened to end his season early, Rashford has been able to use football's suspension to get back ready for the delayed run-in – and a crucial couple of months for his club.
"He's looking good," Solskjaer says. "He's keen on getting back and playing football. That's his passion alongside the passion he's shown now for the free meals.
"He's maturing and he's getting more and more used to that inside-left forward position. I think, being a right-footed striker, that's always a good position to be in.
"Through the middle, he'll also play as a partnership in a two, but that's the beauty of Marcus, he's played many positions. But mainly this season has been on the left, where I feel he's developed a lot.
"He's maturing in his decision making, his movement is great and his physique is always going to be a challenge for anyone playing against him.
"He's always had the composure and the calmness. When you step up against Paris Saint-Germain like he did and take a penalty – his first penalty for the first team – the way he did, you can see a boy who is confident on the pitch and composed on the pitch."
Pogba 'raring to go'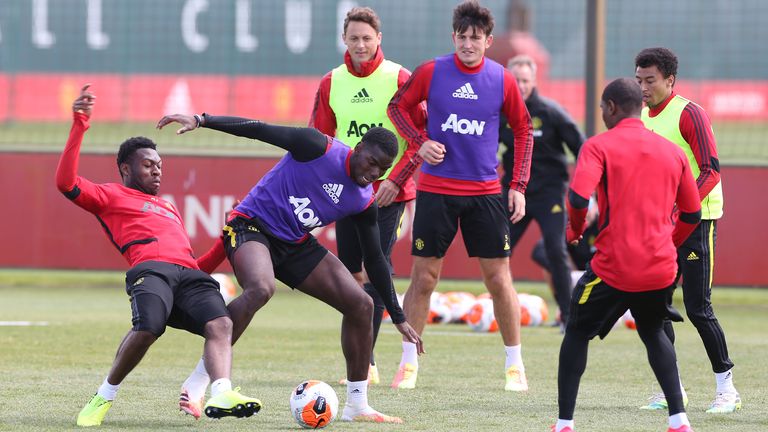 Rashford isn't the only fit-again star name Solskjaer has been able to welcome back for the restart. Paul Pogba has been limited to just five starts in the Premier League this season but he has finally been able to overcome an ankle problem.